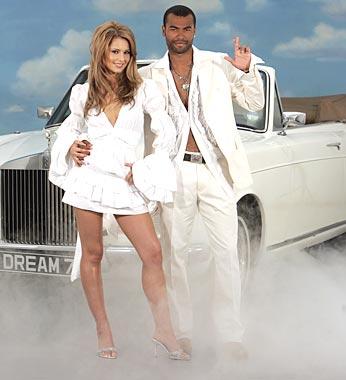 She's long been painted as the cuckolded golden girl trying desperately to give her errant, morally-empty celebrity footballing man a second chance.
But this morning, as she rose from her princess-pink bed a new, Ashley-less single woman, Cheryl Cole can console herself in the knowledge that Brand Cheryl is about to hit stratospheric heights.
The agony caused by the collapse of her marriage should, by the time summer arrives and, in true panto style, be well and truly behind her.
She was already, as a result of her roles in Girls Aloud and X Factor, the nation's golden girl. A position only strengthened by the fact she stood by her man when details of his 'away days' were splashed unceremoniously across the front pages of the Sunday tabloids last year.
No-one, Ashley Cole aside, would have anything but sympathy for her today as her management announced that, as more revelations of Ashley's meanderings made headlines, she had simply had enough and dumped the love-rat where he belongs – in the gutter.
Ashley is, reportedly, distraught. Bless him.
Cheryl, meanwhile, maintains the moral high-ground, has the nation's sympathies, and can discretely smirk to herself in the knowledge that she's just given her personal brand the biggest fillip possible before, as expected, she tries to break America.
It's a good job we have short memories. For back in January 2003, the nation's sweetheart was very much the bad girl.
Our Chezza was involved in an altercation with nightclub toilet attendant, Sophie Amogbokpa, in Guildford and found guilty of assault occasioning actual bodily harm. The judge sentenced her to 120 hours community service and ordered her to pay her victim £500 in compensation, as well as £3,000 prosecution costs.
Not exactly behaviour befitting the nation's sweetheart was it?
But today, Simon Cowell, will undoubtedly agree she's done more to increase awareness of her brand in the last two days than any number of interviews as 'Cowell's new girl' with the American press corps could have achieved.
Expect romantic links with a variety of young chiseled American celebrity males – just to keep us all on the edge of our 'is she falling in love again?' seats and to cement her position as one-to-watch for the American media.
The last Geordie girl to do this well was Heather Mills. Fortunately for Cheryl, she's not dating a national treasure in the mould of Paul McCartney, or we may be giving her a harder time over her marriage fall-out.
But, while we all pour our sympathies and pound coins into Cheryl's significantly growing well, we'd also do well to put this whole matter into some kind of real-world perspective.
Cheryl already knew that Ashley Cole was a lying, cheating womanizer. She waited till her star was brightest and the entire nation was on tenterhooks before finally dumping him.
Thus ensuring maximum publicity, potential financial reward and the placing of a glimmering moral halo permanently above her head just before she sets off to tackle the notoriously puritanical United States.
Is it just me or does this smack as much of business decision as matter of the heart?
By Adam Moss, Brazen News Editor