Yesterday saw the launch of Apple's latest gizmo, the iPad. With iMania reaching boiling point on social networks and the release dictating news agendas across the globe…was all the hype actually worth it? We ask Brazen's Citizens…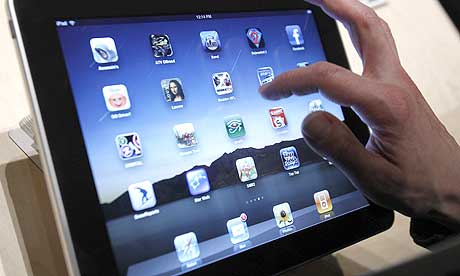 Abigail Outhwaite – Account Executive:
"In the run up to the launch of the iPad, traditional media publishers have been looking to Apple's innovative manufacturing techniques to adjust consumer attitudes to paying for online newspaper content and thus offer their industry the financial salvation that iTunes offered the music industry.
"Apple is already well-equipped to do this – it's existing iTunes and App stores take the inconvenience out of making online payments, to the extent that it is all too easy for technophiles to overspend without thinking about it. And, with it's 9.7in screen, the iPad is an excellent platform for bridging the gap between newspapers and news websites.
"At the launch, Apple's Steve Jobs was accompanied by the New York Times' senior vice-president, Martin Nisenholtz, who also unveiled a Times app for the iPad with the gushing statement: "We're incredibly psyched to pioneer the next generation of digital journalism. We want to create the best of print and best of digital, all rolled up into one."
"This is a step in the right direction, but it doesn't go anywhere as near as far as is required to save the industry – in order to extend the reach of paid-for newspaper iPad applications to less tech-saavy newspaper buyers and thus encourage paid-for digital consumption, the publishers will have to ensure the apps provide substantial amounts of exclusive content, or better yet, the entire industry will have to take the plunge and restrict access to the content available on their websites, to force an incentive to pay for content."
Adam Moss – News Editor:
"While the name of Apple's new iPad makes it sound like Steve Jobs is moving the company into feminine hygiene products I have to say, like the rest of the tech-savvy world, yesterday in my house rapidly became 'Apple Day'.
"Will it transform the way we surf and use our computers, be they smartphones, tablets or netbooks? Yeah, probably. In time.
"I expect to see a rush to Apple stores when the iPad is made available to us all this Spring. But I'll wait till version 2 because that's when I'm convinced Jobs will have ironed out any teething problems and introduced the 'missing' stuff everyone's been harping on about. That's when we'll see the classic Apple "killer apps" we've all been holding our breath for and when the iPad will become the game changer we all suspect it could be."
Daisy Whitehouse – Senior Engagement Director:
"I like any self respecting geek look forward to Steve Jobs' rare forays into the media spotlight where he reveals the latest much awaited outcome from the toil of his floors full of researchers beavering away in Silicon Valley. This time though there's a BUT…I know I could change my mind when remembering being sure I would never wear skinny jeans or shiny leggings but I just don't see the need for this new gadget.
"I think the main reason being, I love books! Books are not broken and they don't need fixing. It's not possible to improve on the feeling of opening a brand new book, and what will be put on our bookshelves? I still have pretty much every single book I have ever bought, not read because as a kid i went to the library! People will argue that it's evolution, that electronic books will encourage children to read more but I wonder if the experience will be the same?
"I know it's not just for books, it's for surfing the net but with 2 iPhones, work and personal, and 2 laptops, work and personal, I think I have that covered, and streaming video, yes they both do that too. Showing off aside, not everyone has an iPhone and a laptop, but most Apple fans do and for the moment I would think it will be only Apple fans that are going to fork out for this extremely expensive book. Having said that, Steve Jobs has done alright for himself so far…"
Gary Bramwell – Deputy Managing Director:
"One…It looks bloody good, better than the other tablets out there and always will, as it is an Apple. Would you buy a HP on looks? No…
"Two…Don't dismiss it. Apple are ALWAYS ahead of their time…this is the first step in something even more brilliant.
"Three…It will change the way we consume media and weirdly cut down on our waste…no more chucking out the hefty Sunday Times when you can skip to the section you want on the iPad.
"Four…It's cheap (relatively)
"Five…I want one."
Graeme Anthony – Digital Doctor
"For me, the actual product never lived up to all the hype, speculation, suspense and media attention surrounding the iPad's launch.
"Tweets spread like wildfire across the micro-blogosphere causing mass Apple hysteria, I even spotted a survey story suggesting that over 50% of the UK were already considering buying Apple's latest epiphany without even knowing what it does…yet alone what it's even called!
"The rumours suggested we were getting something special and that Steve Jobs had created a machine that could not only explain, but justify the meaning of life.
"Instead, we got Mac's version of a product that's lets face it…sort of been knocking around for awhile. Although I expect the iPad will be the next big thing and does signal an evolution in the way we interact with media and technology, there just doesn't seem to be anything groundbreaking about it. Which is surprising and a little disappointing from a company who are lifestyle innovators.
"I'm sure Jobs does have something else up his sleeve which will eventually make our jaws drop and jump for joy but at the end of the day…he doesn't have to. After all, hoards of people will buy the iPad and once all of Apple's competitors have caught up with their shadow, they'll blow them out the water once again with what I suspect will be 'the real iPad'. And then we'll buy it all again…mass consumerism at its pinnacle."